Pioneering Learner Outcomes Through Firsthand Experience
Innovation School Model
Operating under the Altierus Career College brand banner, the innovation school model represents a framework for building a technology-forward learning experience that combines the best of hands-on instruction with flexible, interactive and virtual extensions. The model has the ability to function in true entrepreneurial fashion, fielding ideas from partners and pivoting to pursue the most promising paths forward. Current locations include Atlanta, GA; Houston, TX; and Tampa, FL.
ECMC Education continues to make significant financial and resource investments in its current schools to underscore its commitment to finding new ways to improve student outcomes. With partners who share in our cause, we will innovate new educational delivery methods that lead in student success and employment outcomes.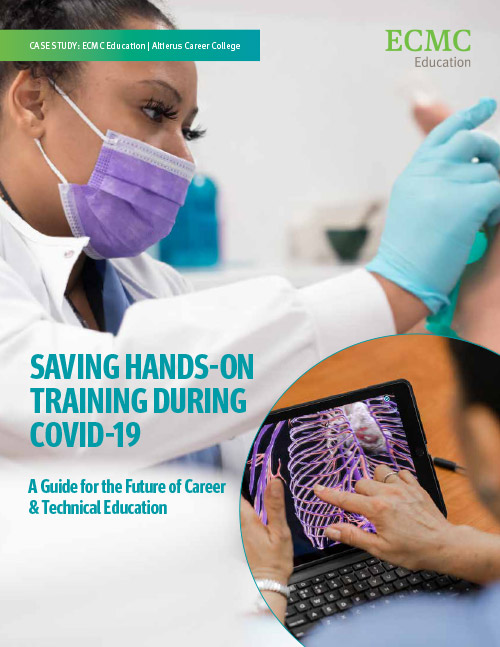 Download Case Study
Case Study: Saving Hands-On Training During COVID-19
With the technology infrastructure and part-time online coursework put in place in prior years, Altierus campuses were able to shift to fully remote, online courses in a matter of days. Proactively equipping students, faculty and staff with iPads and technology well ahead of COVID-19 made the transition seamless. While technology played a large role in maintaining continuity for students, it was an instilled sense of leadership and responsibility among faculty and staff that made it possible. Additionally, training and coaching opportunities helped shore up remote instructional and operational competencies, while outreach to accreditors, state regulators and federal agencies helped gain alignment on flexible guidelines for maintaining compliant educational delivery.
Programs in Allied Health

Registered Nursing
Surgical Technology
Medical Assistant
Dental Assistant
Pharmacy Technology
Medical Billing & Coding
Massage Therapy

Programs in Skilled Trades

Electrical Construction Technician
Industrial Electrical Technician
HVAC Refrigeration Technician
HVAC Technician
A Holistic Learner Experience That Elevates Outcomes
At Altierus, we elevate the entire learning experience to help students get the most out of their time with us. Our goal is to prepare them for success beyond graduation, equipping them with the vital skills they'll need to grow and adapt in their careers. We call it all-inclusive training.
---
Integrated Professional Skills Development

In addition to technical skills, students gain and demonstrate proficiency in communication, interpersonal skills, self-management, emotional intelligence and career-building competencies.

Career Pathway Planning

We promote personal development and encourage continuing training so students can grow and advance in their career pathways.

Hands-On Training & Interactive Modules That Extend Learning

Students gain hands-on training experience in professional learning environments complemented by technology-enabled instruction, such as interactive lectures and online coursework.

All-Inclusive Training Fully Equips Students for Success

Tuition includes an iPad, professional tools, externship (varies by program) and certification/licensure prep and testing at no extra cost so students are ready to begin their training fully equipped.

Modern Technology & Tools Promote Workplace Proficiency

Our labs contain equipment and technology students will see and use in the modern workplace, preparing them for success in their careers.

Student Success Through Community Support

We surround students with wraparound services such as transportation assistance and emergency support throughout their educational journey to help them stay in school and on track.
Graduation Rate

> 2x

VS. COMMUNITY COLLEGES

Within 3 years (national average).
Click here for source info

Job Placement Rate

> 70%

IN CHOSEN FIELD

Based on rates reported to ACCSC in 2020; 77% when adjusted for COVID-19 impact (average across programs and campuses)

Enrollment Growth

59%

OVER PAST 3 YEARS

From 2018–2020
Building Personal Confidence
"Professional skills coupled with technological proficiency are integrated into each program to ensure students have the full skillset needed to grow in their careers."
Jen Eull, Ph.D., Dean of Allied Health, ECMC Education
Student Support Services Span the Entire Journey
An integrated student support model is a standard hallmark of the educational experience from daily S.O.S. ("Save Our Student") meetings and emergency aid for helping at-risk students to personalized and proactive career pathways guidance.
Accreditation
Altierus is nationally accredited by the Accrediting Commission of Career Schools and Colleges (ACCSC).