Forging Superior Outcomes for Learners, Employers and Communities
Delivering on Our Mission to Help Students Succeed
ECMC Group recently celebrated its 25th anniversary as a dynamic and evolving organization focused on helping students succeed. Each organization within ECMC Group uniquely makes a positive impact on learner outcomes, but it's the strength of the three organizations working together that makes it all possible. We look forward to generating more notable outcomes in the years to come.
ECMC Foundation

$192.6M

In Grants and Investments to Improve Postsecondary Education

Since 2014

ECMC

4.0M+

Students and families provided resources to plan and pay for higher education

Since 1994

ECMC Education

38K

Students graduated from our schools

Since 2015
Vision of Becoming America's Workforce Partner
For making a broad impact on the educational landscape, ECMC Education will innovate new career and technical education solutions for industry to leverage and adopt, forging superior outcomes for all stakeholders—learners, employers, and communities. To deliver on our vision, we will collaborate with industry partners to develop a robust, technology-enabled model that holistically serves learners and connects them to in-demand careers with strong earning potential and a high ROI.
National Campaign Drives Awareness of CTE
ECMC Group, the parent organization of ECMC Education, launched a national campaign to encourage Generation Z to explore all postsecondary educational options, including career and technical education. Concerns about student loan debt as well as the COVID-19 pandemic have caused students to evaluate their educational options differently than previous generations. Instead of following a preset path, now is the time to Question The Quo. Learn more about the campaign's online experience featuring insights from national surveys conducted in partnership with VICE media.
Creating Career Pathways to Strong Earning Potential
Across the country, there is a critical shortage of qualified workers needed to fill middle-skill jobs—jobs that require more education and training than a high school diploma but less than a four-year college degree, many of which lead to family-sustaining incomes. ECMC Education promotes pathways to these careers in allied healthcare and trades through its schools and seeks to build new pathways with employers who share the same philosophy.
Allied Health Spotlight:

Nursing an

d Surgical Technology Median

Salaries

1,2

NURSES $71,730
SURGICAL TECHNOLOGISTS $47,300
NATIONAL AVERAGE $38,640

Trades Spotlight:

Electrical

and HVAC Technician Median Salaries

3,4

ELECTRICIANS $55,190
HVAC MECHANIC/INSTALLERS $47,610
NATIONAL AVERAGE $38,640
1Bureau of Labor Statistics, U.S. Department of Labor, Occupational Outlook Handbook, Registered Nurses. Click here for source info. (visited 12/28/2019). 2Bureau of Labor Statistics, U.S. Department of Labor, Occupational Outlook Handbook, 2016-17 Edition, Surgical Technologists. Click here for source info. (visited 12/25/2019). 3Bureau of Labor Statistics, U.S. Department of Labor, Occupational Outlook Handbook, Electricians. Click here for source info. (visited 12/13/2019). 4Bureau of Labor Statistics, U.S. Department of Labor, Occupational Outlook Handbook, Heating, Air Conditioning, and Refrigeration Mechanics and Installers. Click here for source info. (visited 12/13/2019).
Focused on Reducing Student Debt Loads
Americans hold an estimated $1.5 trillion of student debt1, which has doubled in the past decade while approaching crisis levels similar to those in the mortgage industry during the mid-2000s. The U.S. education system, with its alignment and push of students toward four-year degrees, has contributed to the problem. According to the National Student Clearinghouse, three out of ten high school graduates who attend four-year public universities do not earn degrees within six years. At four-year private colleges, that number is more than one in five. ECMC Education seeks to help combat student debt through A) promoting career and technical education as a modern educational pathway with a high ROI, B) coordinating employer-paid internships and work experience to offset tuition and C) encouraging loan repayment programs as an employer recruiting tool and retention benefit.
1Zach Friedman, "Student Loan Debt Statistics in 2018: A $1.5 Trillion Crisis," Forbes, June 2018
2019 ECMC Education Annual Report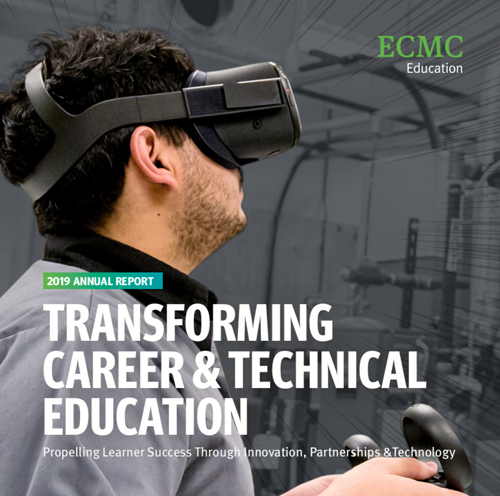 The inaugural ECMC Education Annual Report details our many accomplishments in 2019. This past year was a remarkable one for ECMC Education. At our Altierus Career College schools, we continued to achieve outcomes that exceeded our goals, helping learners attain their educational objectives and successfully position themselves as career professionals. We also launched Altierus Training Solutions to provide custom educational offerings aimed to address employer needs. Our 2019 ECMC Education Annual Report captures our successes and our vision for career and technical education in the future.